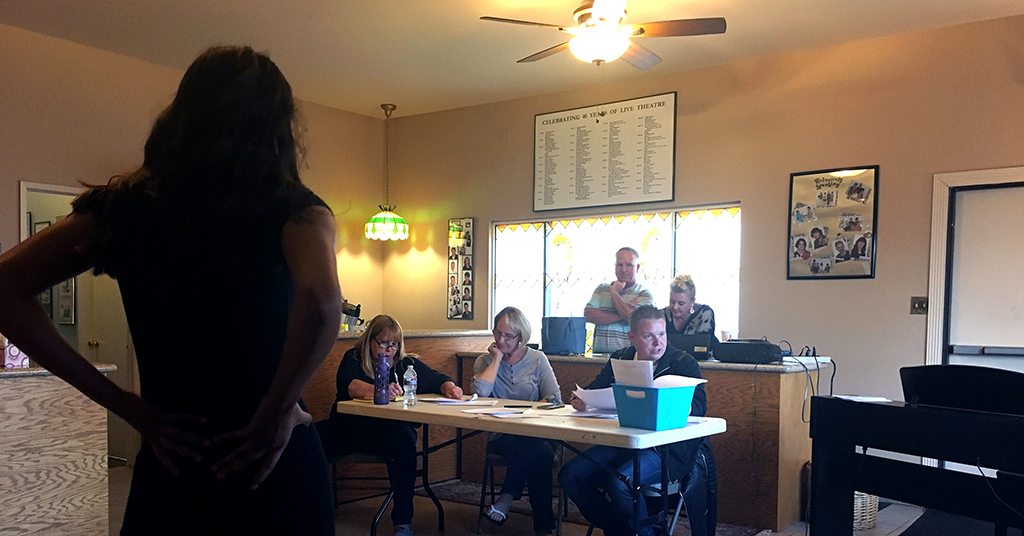 Hairspray Auditions
On June 4th 2017 I stopped by the Santa Maria Civic Theatre to see how the Hairspray auditions were going. It turns out that director Kyle Hawkins has his work cut out for him. Staging this epic Broadway musical at Santa Maria Civic Theatre's 100 seat black box style theatre won't be easy, but it seems like an easier job than choosing a cast from the incredibly talented actors who came to audition for him.
Show Synopsis
If you aren't familiar with the show, it takes place in Baltimore Maryland in 1962. Teenage Tracy Turnblad and her friend Penny Pingleton watch the Corny Collins show on cable access every day after school. When Tracy gets a chance to audition to be a dancer, she finds herself involved in a lot more than just a dance competition. The story is about being different, finding love, and coming together to make the world a better place. Tracy shows the world that a big girl can still make a big difference.
As usual, the Santa Maria Civic Theatre held Hairspray auditions over a two day period. As a result, more people were able to show up to the event. Board member Lynda Mondragon told me that they want to give everyone a chance to try out. She said that the Santa Maria Civic Theatre is a community based organization and we love having new people audition. As a result, I saw a lot of new faces in the crowd of actors.
Dance Auditions
For the Hairspray auditions, Kyle had actors learn a few seconds of a group dance with choreographer Candace Rickman. It was amazing how quickly the actors could pick up on the dance moves and within a few minutes they were smiling and dancing confidently to a few bars of "You Can't Stop the Beat". Those waiting for their turn cheered for friends and newcomers alike as they performed the dance steps. Still, a few actors felt left out of the applause because they were new to the theatre or had come to the Hairspray auditions alone. Since a few actors dressed up for their auditions, they sweated as they learned the moves in shiny dress shoes. We will definitely mention comfortable clothes for the next dance audition.
James Henry II, auditioning for the role of Seaweed J Stubbs, told me that he was happy to see some familiar faces because it made him a little less nervous. He also praised the organization of the event. Stage manager Sonja Wittlieb and production manager Maureen Stanton used a number tag system to help move the actors to different parts of the audition.
Vocal Auditions
While some learned dance steps and showed off their moves, others had to gather their courage to sing for Kyle and musical director Maureen Rickman. The air in the green room was electric with the singers nervousness. I listened to a peppy rendition of "I've Got the Sun in the Morning and the Moon at Night", a surprisingly confident version of "One Jump" from Disney's Aladdin, and a beautiful interpretation of "Somewhere Over the Rainbow". It seems like there is a lot of hidden talent in Santa Maria.
Sally Buchanan is the director of Santa Maria Civic Theatre's upcoming production of Young Frankenstein. While Kyle and his crew listened to singers, she helped by calling people in to sing and not so secretly scouting talent for her own auditions. "She keeps trying to steal all the best singers, " laughed Kyle.
Kyle handed out callback sheets to some of the singers. He was quick to caution that not having a callback didn't mean someone wasn't cast. "I'm still mulling it over," He said, "Nothing is decided yet."
Hairspray: Coming Soon
Now the director has a big job to do. 54 actors came to the Hairspray auditions to show their stuff, and there was a lot of serious talent. Because auditioning can be an emotional process, it can be tough to hear you didn't get in. As a result, you build up a lot of nervous energy and then wait and hope that you were the right person for that part. As Kyle said, "It's not easy. I think telling people they didn't get a part or didn't get the part they wanted is the hardest part of being a director. Sometimes an actor will have a fantastic audition, but there just isn't a part for them in this exact show."
The Hairspray auditions may be over now, but the show itself is just getting started. Kyle hopes to have a cast list by the weekend and start rehearsals by next week. Hairspray opens on August 11th, and tickets are on sale now!